News
EMR Trachoma Alliance inaugural meeting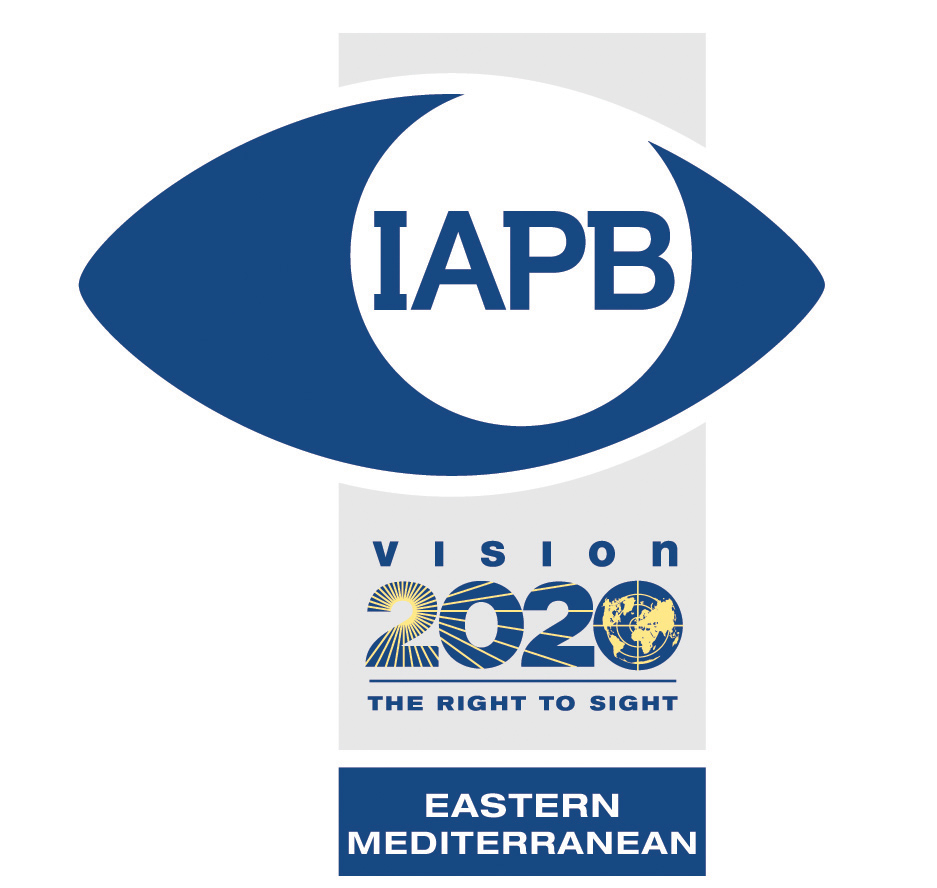 The EMR Trachoma Alliance held its inaugural meeting from 15 - 16 December 2013 in Dubai, UAE. The meeting, which was blessed by the attendance of the IAPB-EMR Chair Prince Abdulaziz Ahmad Al Saud, was attended by national coordinators for prevention of blindness and GET 2020 Coordinators from EMR countries with trachoma or recent past evidence of the disease. Representatives from local and international NGOs working on trachoma in the EMR (including AlBasar international, CHEF, CBM, FHF, Sight Savers, ICTC, Global Trachoma Mapping Project, etc) also attended in addition to experts in trachoma control. The meeting has among its objectives to collate and review available mapping data on trachoma and status of control in the EMR, to develop an action plan highlighting the priority countries/districts/Governorates for mapping and SAFE strategy intervention and to develop a coordinating mechanism for all the stake holders.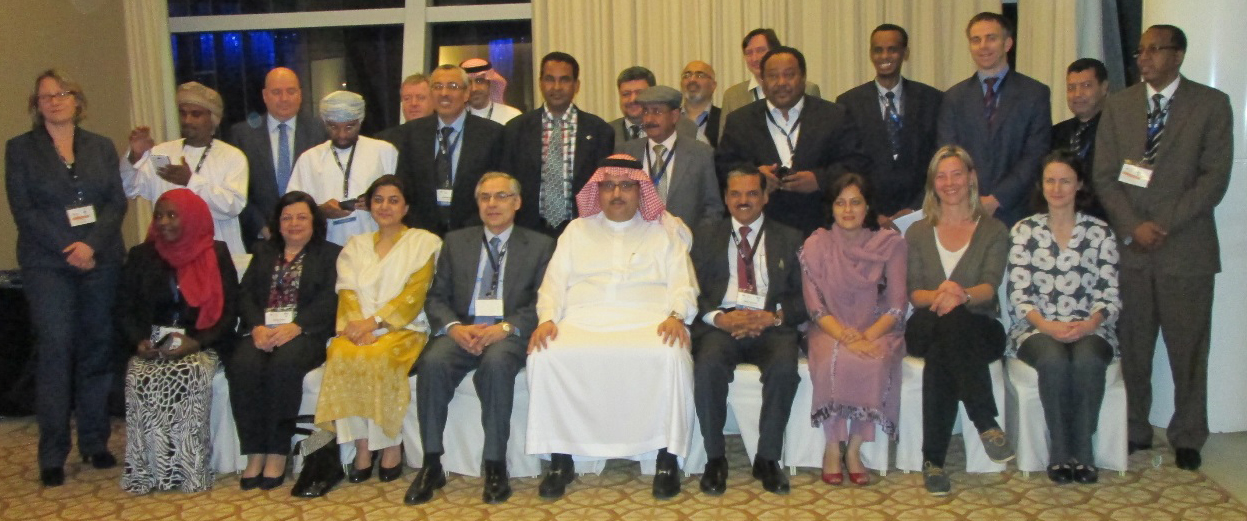 EMR Regional Chair launches 'Dine in the Dark' experience in Riyadh
The Chairman of the IAPB-EMR, HRH Prince Abdulaziz Ahmad Al Saud, launched the 'Dine in the Dark' on 5 December 2013 at the Cristal Restaurant in the Al Faisaliah Hotel, Riyadh, Saudi Arabia. It was an awareness creation activity that entails experiencing dining in a total darkness guided and served by visually impaired people.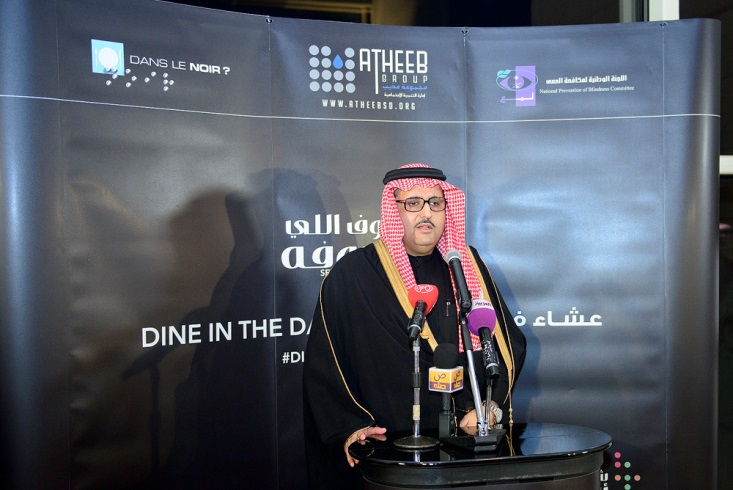 The event was sponsored and organized by Atheeb Social Development Organization (a non-profit organization), in collaboration with Dans Le Noir of France and the Saudi National Prevention of Blindness Committee (NPBC).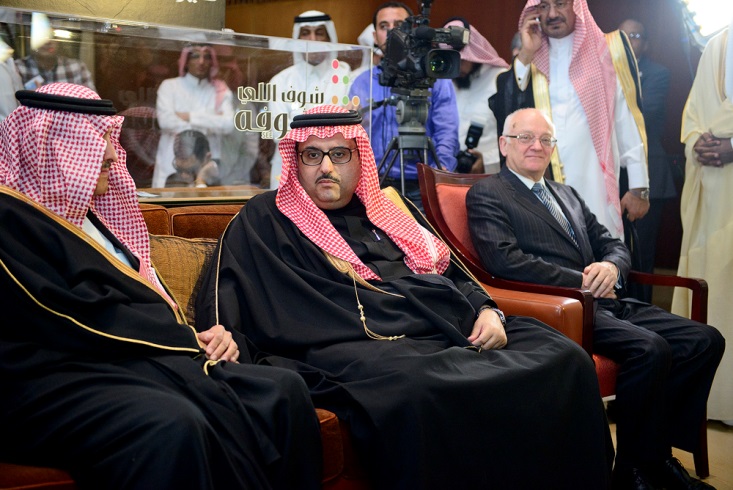 The Chairman and CEO of IAPB, Mr Bob McMullan and Mr Peter Ackland respectively, participated in this unique event.

Also in attendance were Prince Sultan Salman Al Saud, the President of the Saudi Commission for Tourism, Antiquities SCTA). Princess Maha Abdulaziz Ahmad, Chairperson of the Atheeb Social Development Organization, other members of the Saudi royal family, high government officials and the media representatives.


IAPB Chairman and CEO visited EMR office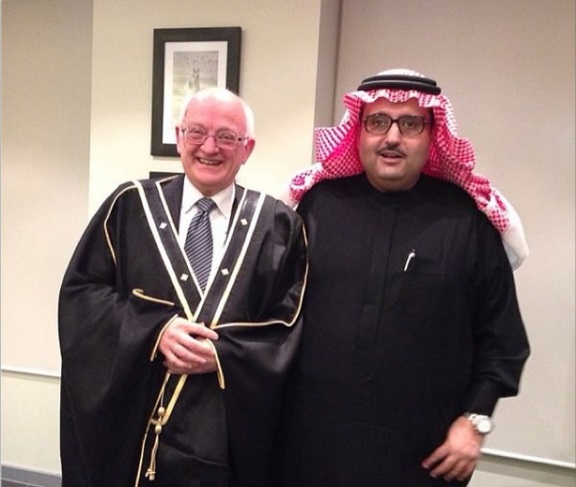 The Chairman and CEO of the International Agency for the Prevention of Blindness (IAPB), Mr Bob McMullan and Mr Peter Ackland respectively, visited the IAPB-EMR office in Riyadh, Saudi Arabia on 5 December 2013. They had discussions with the EMR officials on improving eye health and prevention of blindness activities in the region and globally.


New eye operating theater commissioned in Dar es Salam
A new renovated theatre dedicated to ophthalmic operations only have been commissioned at the Muhimbili University of Health Sciences Dar Es Salam, Tanzania. The theater was renovated by PBU with the support of Prince Ahmed Bin Abdulaziz Al Saud.

It was commissioned on 4 November 2013 by the Director of Muhimbili National Hospital, Dr. Marina Njelekela, who was the guest of honor in the presence of the Vice Chancellor of the University Prof Ephata Kaaya and other many distinguished guests.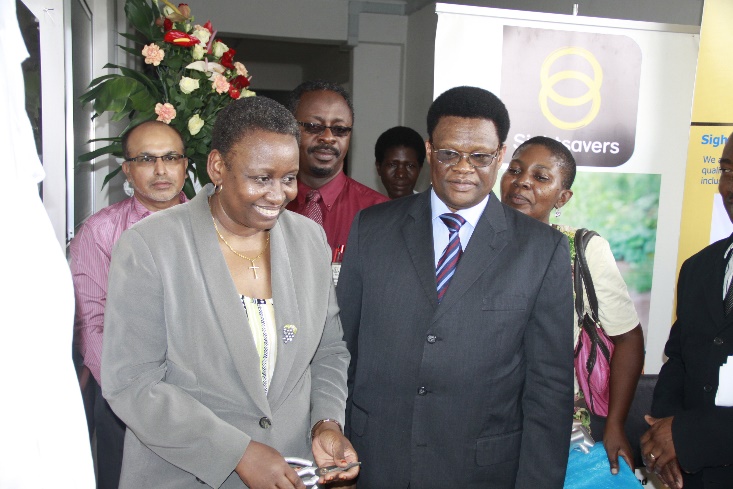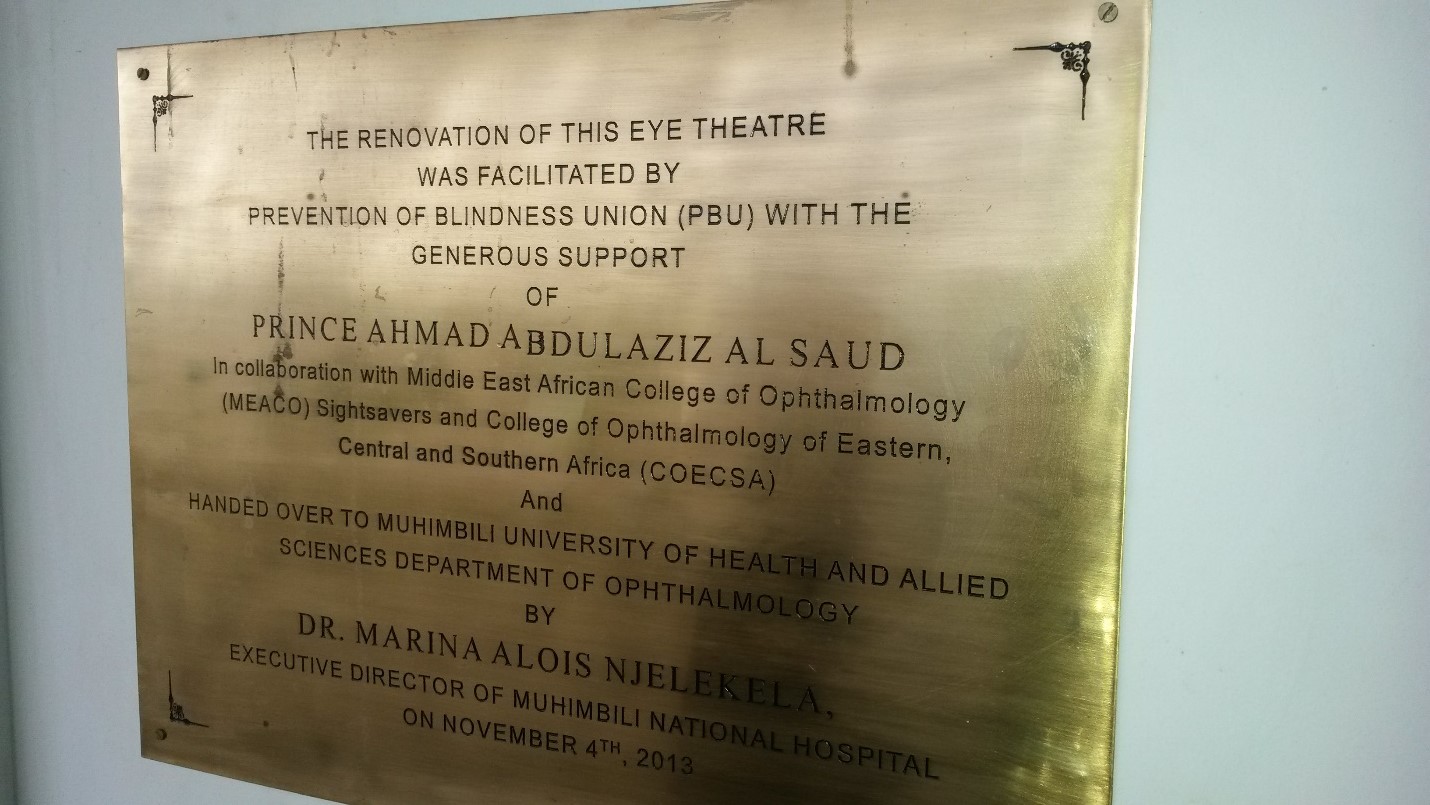 EMR to collate data on eye health human resources across the region
IAPB-EMR with special grant from its Chairman Prince Abdulaziz Ahmed Al Saud will be undertaking a baseline assessment of all available eye health human resources in the 22 EMR countries. This was announced at the recent 60th WHO-EMRO regional committee meeting held in Muscat, Oman. This data lacking in many countries will be particularly useful for development of new national action plans in line with the new WHO action plan Universal eye health. The exercise will be organised by the EMR Human resource working group.


Egypt and Jordan develop national eye care plan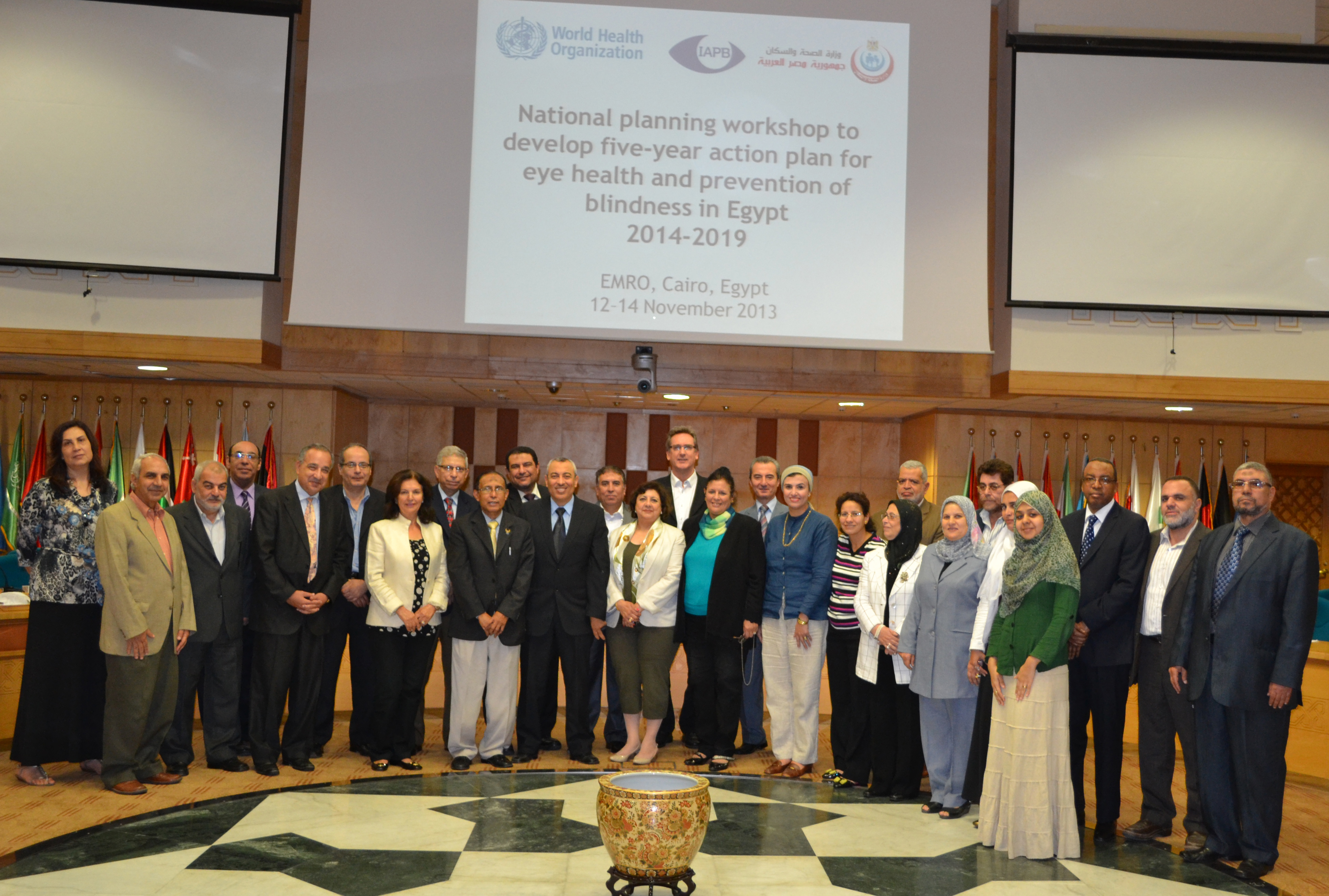 The Egyptian Ministry of Health and Population, in collaboration with WHO-EMRO and IAPB-EMR, is developing a new action plan for eye health in Egypt . This is in compliance with the recent World Health Assembly resolutions WHA 66.4 requesting countries to implement the actions in the new WHO Global Action Plan for Eye Health: Towards Universal Eye Health 2014-19. A planning workshop for developing the plan was held in Cairo, Egypt from 12 - 14 November 2013. In a participatory method workshop participants identified eye health priorities in alignment with Egypt's national policies and the WHO health system building blocks.

Also, Jordan developed its national action plan after a strategic planning workshop held in Amman, October 2013. The plan was developed by the Jordan Ministry of Health and WHO-EMRO in conjunction with IAPB-EMR.


PBU Board Member - Prof. Mohammad Daud Khan receives the 2013 AAO International Blindness Award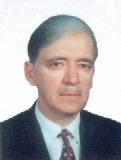 The 2013 recipient of the American Academy of Ophthalmology (AAO) International Blindness Prevention Award, is Prof. Mohammad Daud Khan.

This award honors individuals who have made significant contributions to the prevention of blindness or restoration of sight worldwide and was presented during the Opening Session of the AAO's Annual Meeting on 17 November 2013.

Prof. Khan is the Chairman of the Board of Directors, Comprehensive Health & Education Forum (CHEF) International.


World Sight Day in Tunisia
The following activities were conducted during this year's Word Sight Day in Tunisia.
Television program with the famous movie actress Hend Sabri and the very popular singer Lotfi Bouchnak highlighting the importance of Vision and encouraging people to get their eyes tested.
The Nadi Al Bassar office received elderly persons from (Maison des personnes agées) who were examined, offered glasses and some of them had free cataract surgery. The organization also in collaboration with "Lions Club" visited "El Alia Center for the Handicaped Children" and many of them received glasses (Mongol patient) and others had free cataract surgery.
In Gafsa Governorate, 90 cataract surgeries were performed and in Sidi Bouzid Governorate 50 patients were operated for cataract.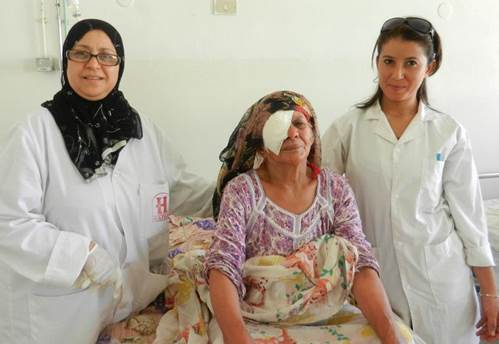 Jordan: 21 ophthalmologists being trained in diabetic retinopathy diagnosis and treatment
As part of the 'Seeing is Believing' Diabetic Retinopathy Program in Irbid, Jordan, a series of training for 21 ophthalmologists from Irbid hospitals and AlBasheer Hospital Amman has commenced. It will be conducted over a period of one month (September 30 - October 30). The training includes diabetic retinopathy detection, grading, treatment using laser or intra-vitreal injections, sessions also on use of OCT and its interpretation will be conducted. The training includes practical sessions. It is being held at University of Jordan Amman by experts in the field of Diabetic retinopathy care.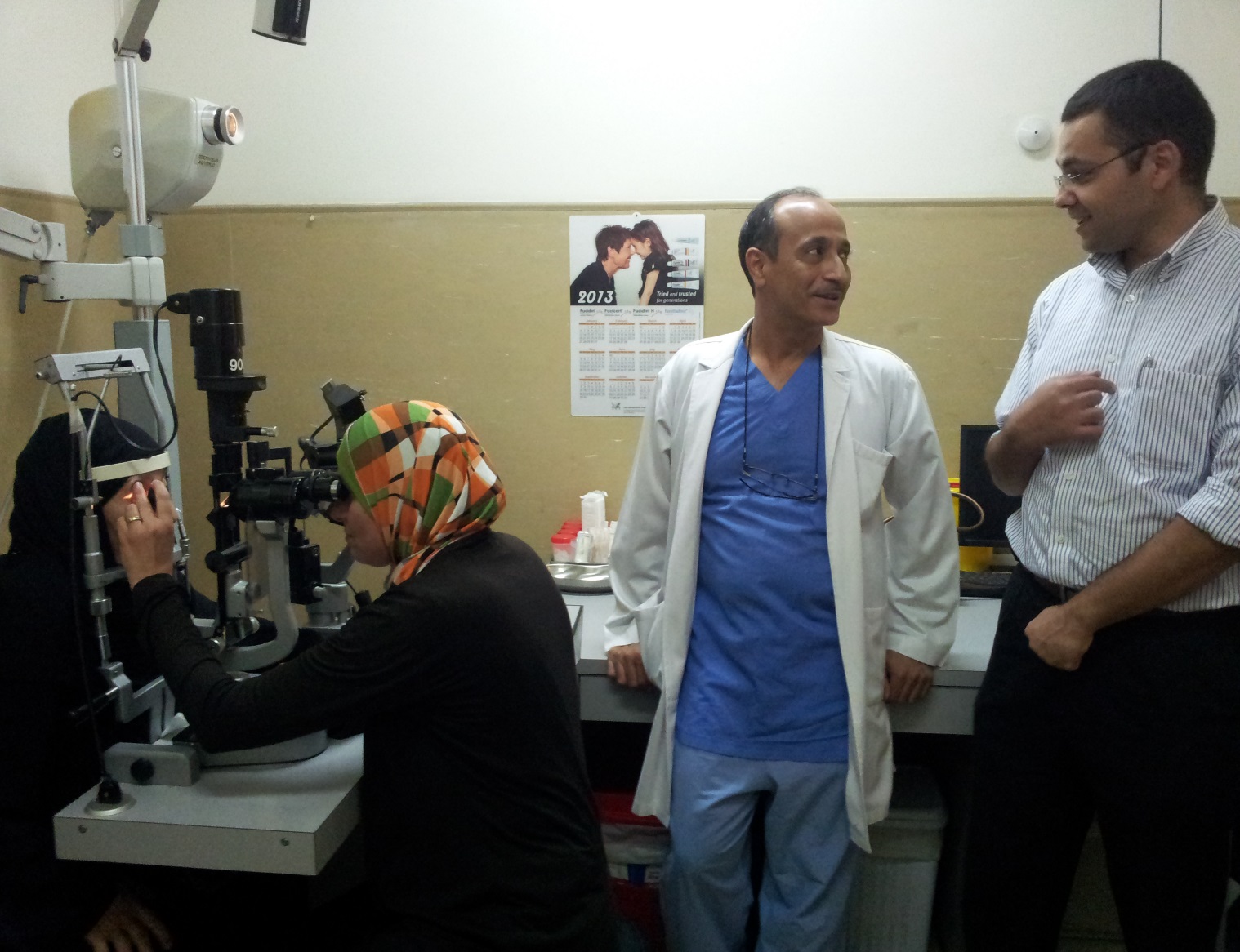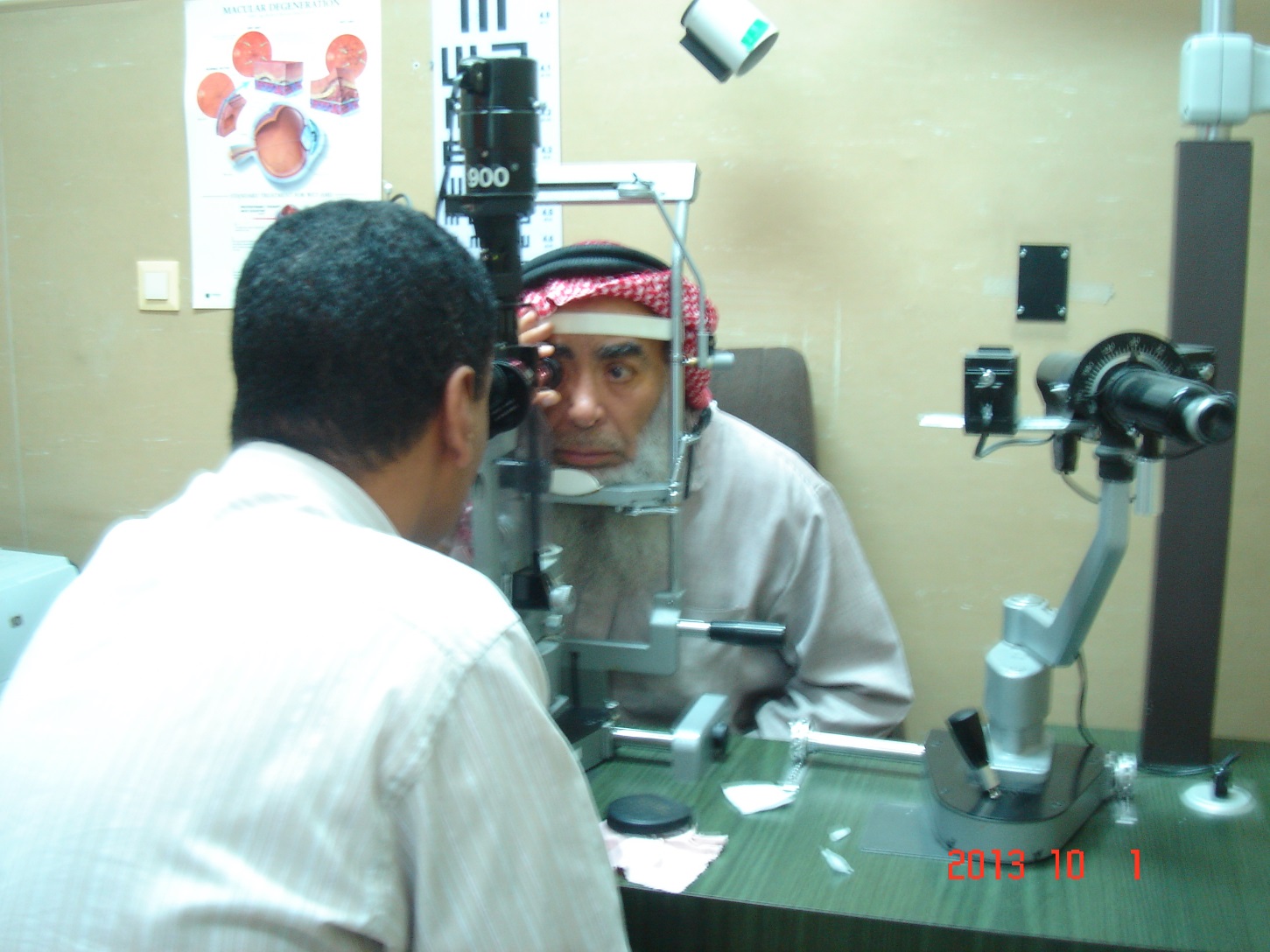 PBU announces 'Ahmad bin Abdulaziz Al-Saud Initiative' to treat 10,000 people
The Chairman of PBU, Prince Abdulaziz Ahmad Abdulaziz Al Saud, had announced a new initiative for ocular health interventions for 10,000 people in Africa over one year. The Chairman announced the initiative at the launching of the GCC forum for Avoidable blindness in Dubai in October 2013. Details of the initiative to be undertaken by PBU partners will be announced later.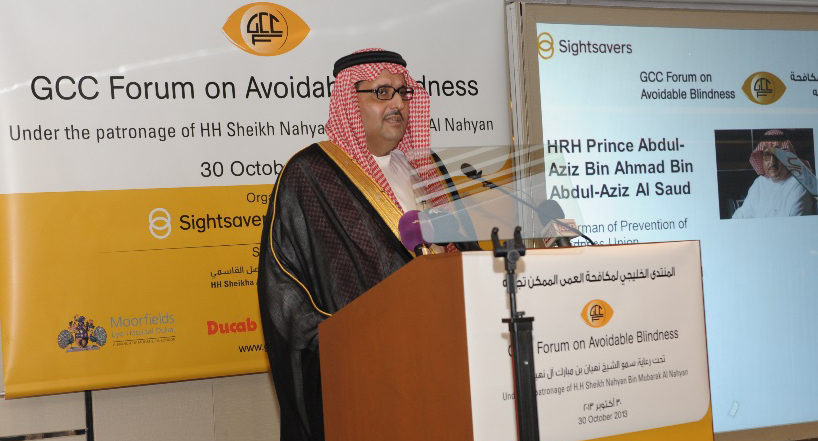 GCC Forum on Avoidable Blindness (GFAB) formed by Sightsavers and PBU

Sightsavers Middle East and PBU launched the GCC (Gulf Cooperation Council) Forum on Avoidable Blindness. The Forum will serve as a regional platform for stronger collaboration between foundations and NGO's from the region to pool their resources and streamline their activities towards a better impact on prevention of blindness in the region.

The official launch of the forum, which was organized in collaboration with the International Agency for the Prevention of Blindness – Eastern Mediterranean Region (IAPB-EMR), was held in Dubai on 30 October 2013. The event had in attendance several organizations working in the field of prevention of blindness, representing 12 countries.

The Forum, under the patronage of H.H. Sheikh Nahyan Mubarak Al Nahyan, was attended by HRH Prince Abdulaziz Ahmad Al Saud, Chairman of PBU.


60th session of the WHO-EMRO meeting in Muscat, Oman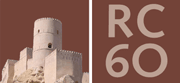 The 60th Session of the Regional Committee for the Eastern Mediterranean Regional Office of WHO took place in Muscat, Oman from 27-30 October. Agenda item EM/RC60/4 of the meeting was discussed on Resolutions and decisions of regional interest adopted by the 132nd and 133rd Sessions of the WHO Executive Board and the 65th World Health Assembly held in January and May 2013 respectively in Geneva. Part of this was the WHA resolution on 'Towards Universal Eye Health: A Global Action Plan 2014–2019' which reviewed progress made so far in the region. Qatar and Libya had so far developed a new action line in line with the new global action plan. However there are plans to develop plans for Saudi Arabia, Jordan and Egypt soon.

IAPB-EMR was represented at the meeting.